- The delivery time for custom-made products is about 2 weeks (after receipt of payment). The current delivery dates can be found at F.A.Q on slaaplekkerzacht.nl
- Products from stock will be delivered within 4 workdays or together with your custom-made products.
- Post
You pay a standard price for post and packaging. Small products will be sent in an envelope and large products/orders will be sent as a postal package. On the day it is sent you will receive a message and then it will take about 1 or 2 days before the DHL or PostNL delivers your order (in the Netherlands). For packages you will receive a code via e-mail to track and trace your order. For a small extra price your order can be insured or sent by registered mail. For very heavy packages (over 10 kilo) the postal costs will be calculated afterwards (and deducted).
- The products can differ slightly from the photo. All products are handmade. The sizes are approximate, they can differ about 5%. The colours of the fabrics are shown as realistically as possible, but always differ from the actual colours. A screen often shows the colours slightly differently. You are always welcome to visit me to look at the fabrics and designs. It is also possible to send you a sample of a fabric.
- The use of all the slaaplekkerzacht.nl products is at your own risk. Never hang the hammocks up too high, your pet should at all times be able to easily climb in or out of it. Only use it under supervision. Immediately remove damaged or worn out products from your pet.
- It is possible that a chosen fabric/product from stock is not available. You will be informed about this via e-mail.
- Some (cotton) fabrics can run in the wash, so wash these products separately the first couple of times or wash with similar colours. Wash at max 40*C, the use of a dryer is not recommended.
- All products that have been ordered are for personal use. It is not permitted to sell them to third parties, unless you have received written permission beforehand. Copying my designs is prohibited without prior consent.
Cancelling:
You have the right to cancel your order up to 14 days after receiving it, without any reason, with exception of custom-made products. After cancellation you have another 14 days to return your product. You will receive the payment in full, including postal costs. Only the cost of returning it to the webshop are for your own account.
If you use your right to return, the product must be returned to slaaplekkerzacht.nl unused and clean, in its original state and packaging. To make use of this right, you can contact us via info@slaaplekkerzacht.nl. We will return your payment within 14 days of being informed of your wish to return. If the products have not been returned in the correct state, slaaplekkerzacht.nl has the right to only return a part of the payment.
Return custom-made products:
Because these products were made especially for you it is not possible to return them.
In exceptional cases you can return these products if they can be sold from stock (inquire about the possibilities). Slaaplekkerzacht retains the right to only return part of the payment. The postal costs for returning your order are for your own account.
Guarantee:
If your product has a production error or breaks a lot quicker than you may reasonably expect, you have a right to a guarantee. This may consist of repair or replacement of the product. In this case, first contact Slaaplekkerzacht.
If anything is not clear, please send me an e-mail: info@slaaplekkerzacht.nl
Kind regards, Milou de Jong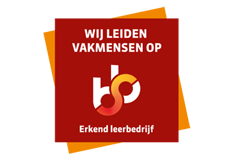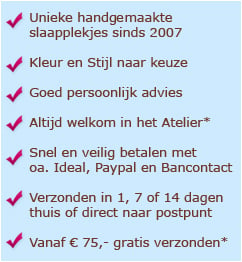 Shopping cart
No items in shopping cart.
Languages